Going Downtown.... Danville style.
This past weekend I went back home to Danville, Virginia, for a little break from the big city. Sometimes, DC can be a bit overwhelming and I need to get away for a few days, not to realize that I miss it and love it, but because I just need some time to relax and not worry about traffic, gigs for bands, work and everything else that causes me stress. While I didn't even come near doing everything that I had planned, I still had fun and it was great to see my friend there, as always.
Saturday afternoon, my parents were busy scraping the dust and paint flecks from their new windows and refused my help, so I grabbed their trusty Fuji digital camera and ventured downtown to take a few pictures. Downtown Danville has always had a very unique, almost reverential vibe for me. There's always a new mystery to find or some little feature of architecture that goes almost entirely unappreciated. It's a constant reminder of a different era of Danville's boom times, when it was known as the "World's Biggest Tobacco Market." Even more so, downtown Danville stands as a monument to a time when artistry and invention could be worked into even the most utilitarian buildings. Mostly though, for this trip, I concentrated on the fading paint of Danville's wall advertising, put there before billboards became popular. I've watched them fade over the years and wanted to capture my favorites before somebody painted over them as a part of Danville's latest attempt to revitalize the downtown area.
Let's start with the advertisements: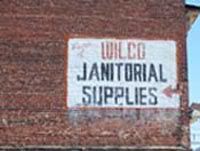 This one's always been my favorite, for obvious reasons. However, I saw that the Wilco warehouse out on Hwy 29 has been turned into a Purina animal feed distribution site. Trading in one kind of cake for another, I guess.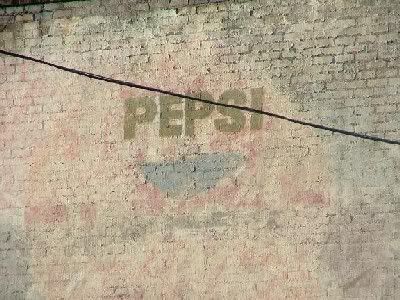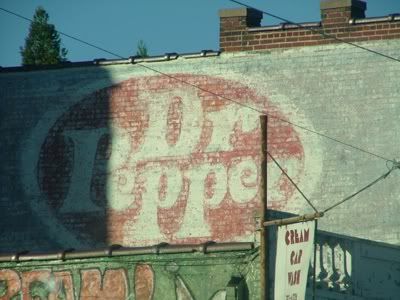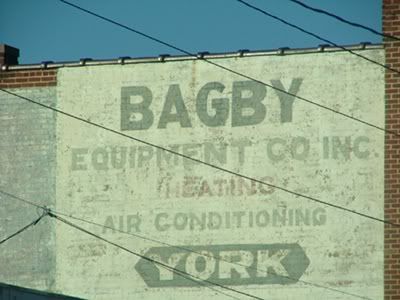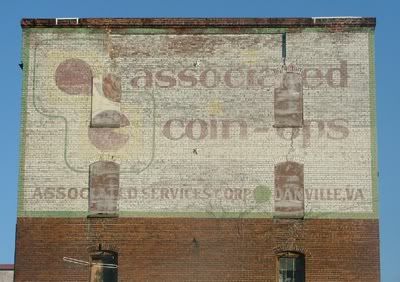 I had a bit of fun with this last one.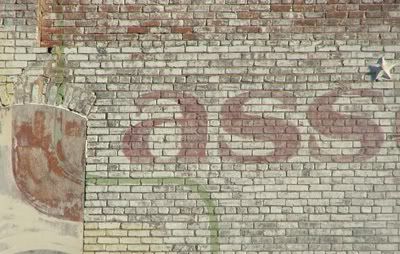 And this one is my favorite picture of day:
The sun was hitting that wall perfectly plus it was the hardest picture to get. The street corner where I took a lot of these pictures, right over near Green St. by the old Schwinn Bicycle store, is notorious for drug dealing and even a couple drive-by shootings. (I'm dubious of the drive-by reports though; there's a police station only 100 yards around the corner. I think Danvillians just say these things so they can scare each other or be shocked about something.) However, the building with the Dr. Pepper ad houses a heavily-tagged carwash, which is a reputed front for several local drug dealers. I was definitely being watched while taking those pictures.
I just thought that one was too funny to pass up.
Here's some other pictures I took around the area: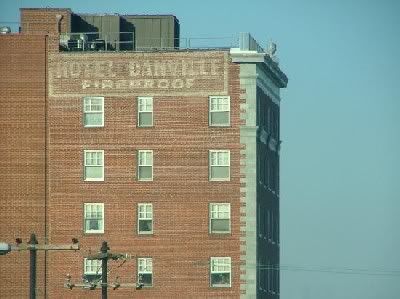 The Hotel Leeland is a residential hotel and has always held a sort of mythic status with my friends and I. It's where all the crazy people seem to end up, the last stop before the train out of town, either upstate or up the creek. It's also where all the prostitutes plied their trade when we were teenage skate punks hanging out in the underground parking lot across the street. If Sid Vicious had died in Danville, his body would've been found in Room 21 of the Hotel Leeland.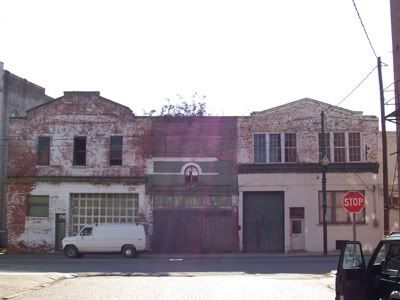 This picture always makes me think of Mexico or something. Look at Martha flashing the camera in the bottom right. Oh Martha, have a little dignity.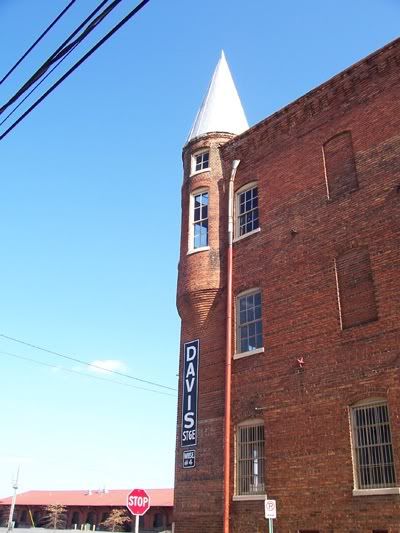 When I was a kid, I was really into castles so this warehouse was always "The Tower" and I would stare at it in awe every Harvest Jubilee. I even tried to draw it a few times when I was in the 2nd grade. That aside, this really illustrates my earlier point. This is a tobacco warehouse. Why have a tower? Artistry abounds in these old buildings so why not have a tower? This is also across the street from the building where I found the whiskey still and 1930's era stash of Coca-Cola syrup bottles, from before the days of carbonation.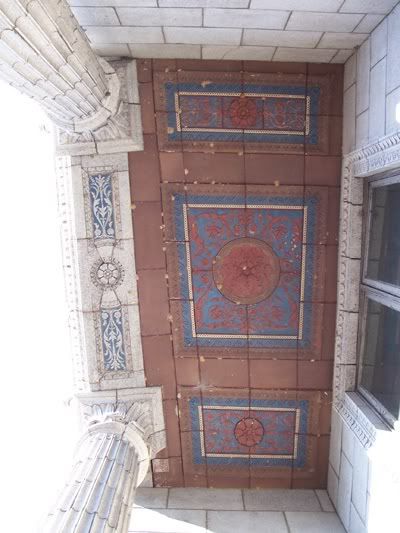 Yet another example of the little things to be found downtown. This is a mural underneath the roof of the Danville Register & Bee's front entrance. I had never thought to look up before. Surprises are everywhere.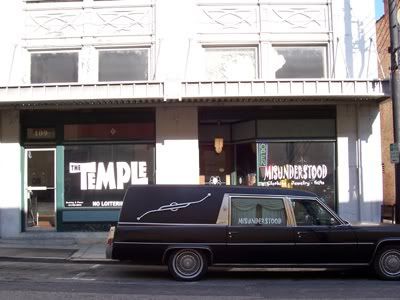 This is an old photo of The Temple, a local show venue, and the gothic boutique next door. These shops have been closed as they are currently trying to sell the Sonic Building (Danville's only skyscraper) and turn it into condos. I don't know how I feel about that. While it'd be nice to finally reintroduce downtown Danville to everyday life and get more commerce and personality into the area, part of me frets that so much of the old downtown will be lost in the mix.
The next few times I go home, I'm definitely going to be photo hunting, hopefully culminating in trespassing to find that whiskey still underneath Craghead St., getting some pictures of Sammy and his Downtown Records shop, and finally taking the time to line up a shot of the Living Tunnel fallout shelter at night. (I found a specific point where you can lie down on the street in front of the tunnel and the red lights from the traffic signal behind look like eyes. Plus the tunnel is eerily lit at night so the whole thing looks really haunting.)
*NEW NOTE*
I got bored today at work and tried to edit the power line out of the Pepsi photo above. I don't know, the line's gone now, but the middle P looks fake. What do you think?